HYPERSINTH ABSINTH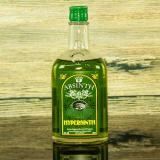 0,7 l - 70% vol. alc.

ABSINTH HYPERSINTH ERSETZT AB JETZT DEN HYPNOTIC ABSINTH

HYPERSINTH ABSINTH - extra highest level of thujon

Absinth Hypersinth - ist eine absolute Rarität in Deutschland. Er ist ausschließlich bei der Absinth-Oase erhältlich. Sein feines Aroma, bei dem bewußt der Anisgehalt sehr gering gehalten wurde, überzeugt durch Ausgewogenheit. Geschmacklich geht sein wermutiges Aroma leicht in die Richtung King of Spirits oder La Boheme.
Absinthkenner, die eher anisarme Absinthe bevorzugen, werden begeistert sein. Auch das schöne Flaschendesign trägt zum gelungenen Gesamtbild dieses Absinths bei.
Aus bestimmten Gründen wurde nun der Hypnotic Absinth in Hypersinth umbenannt ...

Achtung: Nachdem der Hypersinth Absinth jetzt fast zwei Jahre nicht mehr produziert wurde aus bestimmten Gründen, ist er jetzt wieder erhältlich in neuer überarbeiteter Version. Lassen Sie sich überraschen von dem kräuterigen Geschmack und der hammerartigen Wirkung dieses Absinth, der viele Freunde hatte und jetzt ca. dreimal so viel von dem Wirkstoff enthält, der für den Absintheffekt verantwortlich ist, wie vorher... und auch vorher hatte der Absinth Hypersinth aufgrund der Wirkung schon viele Freunde...
EU Lebensmittel Informations-Verordnung 1169/2011

| | |
| --- | --- |
| Bezeichnung der Spirituose: | Spirituose mit Farbstoff |
| Alkoholgehalt in Volumenprozent: | 70 |
| Nettofüllmenge in Litern: | 0,7 |
| Name und Adresse des Herstellers / Importeurs: | L`OR Special Drinks s.r.o., Losiná 299, 33204 Nezvestice, Tschechische Republik |
| Ursprungsland: | Tschechien |
| Enthält Farbstoffe: | Ja |