Absinthe Bairnsfather Vir Verte
Absinthe Bairnsfather Vir Verte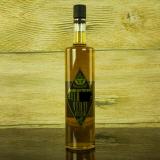 0.7 l - 65% vol. alc.

Absinthe Bairnsfather Vir Verte is a new Absinthe from Kyle Bairnsfather, which he has succeeded especially well. This is also the opinion of the international public of absinthe drinkers all over the world.
This Absinthe Bairnsfather Vir Verte is produced in the Czech Republic from the virgin plants Kyle Bairnsfather planted years ago in the Altvater Mountains before they were reproduced. Vir Verte is distilled from the following plants: Wormwood, hyssop, oregano, thyme, mint. After the distillation this Absinthe is still colored with color macerate green-brown. The result is impressive. A complex harmony of aroma and taste has succeeded excellently.
EU Food Information Regulation 1169/2011

| | |
| --- | --- |
| Description of the spirit drink: | Spirit |
| Alcohol content by volume: | 65 |
| Net quantity in litres: | 0,7 |
| Name and address of the manufacturer / importer: | Bairnsfather Family Distillery s.r.o., Domasov 490, 79085 Bela pod Pradedem, Czech Republic |
| Country of origin: | Czech Republic |
| Contains dyes: | None |